Sunshine Mama
This blog will document my life and the many hats I wear, mother, friend, fiancee, daughter, free spirit, co-worker, runner, artist, thinker, and most recently a blogger. I will share my challenges and achievements. I will journal about my beautiful son and wonderful family. I hope to share any and all adventures and invite you to come along.
Wednesday, March 20, 2013
I just ordered Finn's Thank You cards, check em out.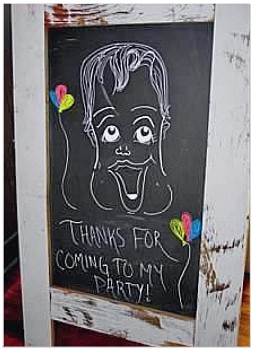 In Portrait 5x7 folded card
Party Tip: For Finn's Thank You cards I used a picture of the chalkboard sign I made for the party. To make the sign all you need is a chalkboard and wet erase markers, they are so neat and easy to use. I had a lot of fun making this! You can find the markers at any craft store and they have all colors.
I thought it was a little different than using a traditional picture for the Thank You cards like you always see.

A few years ago Luke and I went to a destination wedding in Riviera Maya, Mexico. We had a great time and the wedding was perfect. We decided then that,when the day came we also wanted to do a destination wedding. So, that day is now and the pressure is on. I know most brides get stressed when it comes to the wedding planning, I however feel like it is my duty to pick the best resort for all of our friends and family (because they are paying so much to go). I need to pick one that is affordable for all the people closest to us. I am also gambling with the rooms, food, and other amenities. Let me tell you what, I have looked and looked at ALL the resorts in Mexico. I have researched TripAdvisor, travel magazines, and with the help of our travel agent I finally picked the
one!
It was a toss up between two, one being the resort we went to before, and the other being the Now Sapphire. I really wanted to get married on the beach, sanding in the sand and the Now Sapphire had beach weddings (the other did not )so we went with the Sapphire. We are going the first part of June 2014 and will stay a week. I can't wait, it is going to be a blast.
I decided to post a few pictures of our trip from 2 years ago so I could reminisce a little. :)

This picture does not do it justice, it was absolutely beautiful.
These two gals are planning on going with us this time too!
Now we just have to.....
plan the reception,
find bridesmaid dresses,
figure out what Luke is going to wear,
buy our rings,
and pay for everything!
I am sure there is more to do than that, but I will just start here.
Tuesday, March 19, 2013
Last year I did not celebrate much for St. Patrick's Day, Luke and I had just welcomed our new baby boy Finnegan to the world. My parents came to visit from Hollister, Missouri for the delivery of their 1st grandchild last year. This started a tradition, as they came to visit again this year. Saturday we celebrated Finn's Birthday and Sunday we celebrated St. Patrick's Day by listening to some good music, eating corned beef & cabbage and of course a few of us drank beer. My fiancee, Luke (it is weird calling him my "Fiancee") owns a bar in the town we live in. It is what I like to call a "towney bar". He has his "regulars" which drink their "regular" drinks on a fairly "regular" basis. Don't get me wrong, I love it and so does Luke. We started date not long after he bought the bar in early 2009. We have made many friends and have more memories there as a couple than im sure anywhere else. I worked there while in college and ocassionally drop behind the bar to bartend, now that Finn is a little older and I don't feel as guilty leaving him home with a babysitter. Anyway, enough rambling, Luke has live music a few time a month at the bar and on St. Patrick's Day he had one of our favorites. Everyone enjoyed the music, including my parents, and Finn!
This is Frank, he sings and plays harmonica the band. He didn't want me to take his picture, he requested I edit the wrinkles off...... :)
You can't tell in these pictures, but we are dancing! Finn loved the music, he has a few signature dance moves these days, one being "the sway" . He will sway his hips and head back and forth at the same time, it is so stinkin cute!
Luke & Finn are twinkies, Luke dresses him every morning. ( I have to go in to work earlier than he does). I am always excited to see what he is wearing when I pick him up from daycare, its funny how often they are dressed alike.
Cael playing his harmonica.
My mom and good friend Tammy.
Friends enjoying their St. Patrick's Day
Luke's parents also came out to listen to the music. He had quite the crowd.
So Sunday was the last day my parents were visiting, they had to leave early to miss our little snow storm we had yesterday. I had such a great time with them and they were both a lot of help with Finn's Party. Sunday was a nice relaxing way to end a great weekend with family.
Side Note: Today Luke & I decided on a resort in Mexico to get married as well as a date. More on the wedding planning tomorrow. :)
They were very quick and were emailed to me the day after I ordered them!
I believe they were only $10 and I paid $.20/ invited to have them printed. I cut them myself to save some money.